Dermapen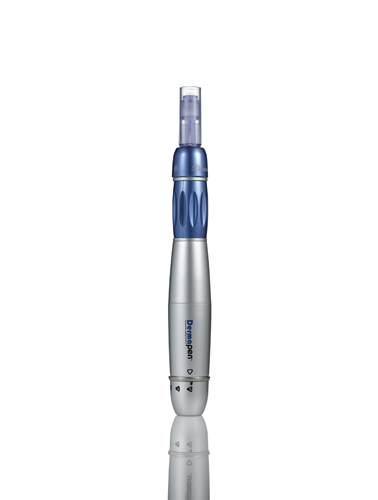 WHAT IS DERMAPEN?
It is an in-clinic treatment that uses advanced vertical skin-needling technology, the device provides for unparalleled collagen induction via fractional delivery of micro-needles into the epidermis and dermis. Treatments classified as Minimum Needle Depth are painless, and for treatments over 0.5mm deep, a topical anaesthesia cream is applied before the treatment, making it completely pain-free. The tool can even be used around the delicate eye and lip areas.
WHAT DOES THE DERMAPEN DO FOR THE SKIN?
When the Dermapen moves across the skin's surface and pierces the skin, it stimulates the body's natural innate ability to re-grow and repair the skin through the physiology of collagen reproduction, while also allowing fine channels to be created in the skin. These channels can carry up to 80 per cent more topical nutrients to the underlying skin cells, which results in an increased absorption of active ingredients into the skin, stimulating faster and better results.

The effects of the Dermapen are similar to that of fractional laser treatments, but without the side effects and downtime. It may also be more effective than microdermabrasion and chemical peels, and unlike traditional skin-needling rollers, the Dermapen causes less skin trauma and minimal epidermal (skin) damage, reducing pain and discomfort.
WHAT DOES DERMAPEN TREAT?
Dermapen™ is a solution for various skin conditions, you could benefit from the effects of Dermapen treatment for aged or sagging skin, fine lines and wrinkles, smoker's lines around the lips, large pores, stretch marks, acne scarring, scars, surgery and burns. The number of treatments required varies depending on the skin issue, however results can be seen after the first treatment, and lasting, more significant results occur after approximately six treatments.
WILL MY SKIN BE RED OR IRRITATED AFTER USING THE DERMAPEN?
Generally speaking, there is no downtime after treatments. However, some people do experience facial redness for 12-48 hours after the treatment, but that's where Lycogel comes in. Specially formulated for post-cosmetic procedures, this ingenious breathable foundation is recommended for use after Dermapen treatments as it covers skin imperfections and redness while still allowing the skin to recover. It has an SPF of 30, and is water-resistant.
Email inquiries to: info@svmp.com.au 
or for more information please call (02) 4296 7596